Off the beaten path of Los Angeles is the LA Brea Tar Pits. This is next to the Los Angeles Contemporary Museum of Art on Wilshire Boulevard. It is a slightly lesser-known tourist attraction, and it is what LA is made of. LA is made of oil, it's a big oil town and here in this park, there's the lake that's a collection of water but also has a bunch of oil that bubbles up from the ground and creates tar on the surface hence the name tar pit. It has been here for a long time and actually there has been like mammoths, elephants, and lots of old bones that have been collected in this tar.
There is a museum, a Tar Pits Museum that's open 9:00 to 5:00 p.m but you can come almost any time of day or night and walk around the park ground and take a look at these Tar Pits. If you have ever been next to a road when they have been paving it with asphalt that's really what these pits smell like. So it's a really cool natural phenomenon in LA and you can come and see where smelly tar bubbles up from the ground. If you are in Los Angeles, you should definitely check this out, admission is free.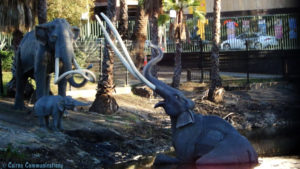 As you walk through the park that house the tar pit there are more tar pits than just the big one. In pit 13, you will see the tar bubbling up out of the ground and the trees growing right next to it. Pit 9 looks small, but it has trapped the most mammoth in the park. 29 mammoths were trapped and died in this tar pit. The oil keeps bubbling up throughout the ground in various places in the park where they haven't been able to put up a fence yet. You will just find a gooey gooey cone that looks pretty sticky. Some of the Tar Pits are still active paleontological sites and they have these crates that are fossil crates for the fossils.
Before you leave the tar pit, you should check out the Contemporary Arts Museum or the artwork piece of the streetlight. The street light is free, famous, and right out the front. You have to come early in the morning to take pictures because this is where every single tourist in Los Angeles comes to take a picture.